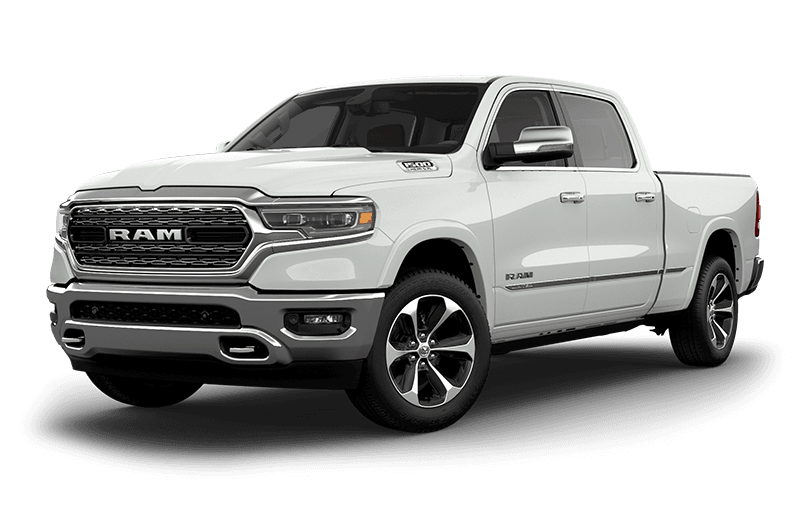 Ram offers three different truck models that can be equipped with a diesel engine: the 1500, the 2500, and the 3500. Each of these models offer their own advantages and disadvantages to different types of buyers. However, they all have several things in common--great towing and hauling capability, as well as genuine Ram excellence.
2020 Ram 1500
The 2020 Ram 1500 EcoDiesel was completely redesigned in 2019 and somehow the redesign improved upon an already great truck. The 1500 is a light-duty full-size pickup truck, and it features tough competition from other manufacturers. However, its smooth ride, luxurious cabin, comfortable seats, and great fuel economy make it rise above other vehicles in the class. New for 2020 is the EcoDiesel engine, which offers gains in fuel economy, towing, and payload while not detracting from all the other great things about the Ram 1500. The 3.0-litre EcoDiesel V6 engine is an 8-speed automatic with E-shifter and is available on any of the seven Ram 1500 model variations, which start at $40,000: Tradesman, Big Horn, Sport, Rebel, Laramie, Longhorn, and Limited. The EcoDiesel provides outstanding fuel economy--it is rated at an astounding 10.5 L/100km for city driving and 7.3 L/100km for highway driving. The EcoDiesel engine holds its own as a workhorse as well, with 480 lb-ft max torque, 5,783 kg max towing, and 1,043 kg max payload.
Ram 2500
The 2020 Ram 2500 builds upon a 2019 redesign and comes in a variety of cab, bed, engine, and drivetrain configurations that make it easy to customize to any buyer's needs. It fits in perfectly for jobs that require more power than the light-duty Ram 1500 can provide but don't require the extra-strength Ram 3500. The 2020 Ram 2500 comes in six different model variations, which start at $51,595: Tradesman, Big Horn, Power Wagon, Laramie, Laramie Longhorn, and Limited. There are two engine options, with the 6.7L Cummins Turbo Diesel I-6 engine being available for every model except the Power Wagon. The diesel engine comes in either rear- or four-wheel drive and offers 370 horsepower and 850 lb-ft of torque. It can haul up to 1,469 kg and tow 7,652 kg.
Ram 3500
For buyers who really need power, space, and capability, the 2020 Ram 3500 is engineered to perform, featuring outstanding payload and towing capability with its diesel engine options. It is also designed to please with a luxurious interior with comfortable seats, tons of passenger and storage space, and the largest available touchscreen infotainment system in the heavy-duty truck segment. The 2020 Ram 3500 starts at $52,595 and is available in five different models: Tradesman, Big Horn, Laramie, Laramie Longhorn, and Limited. There are two diesel engine options available: the 6.7L Cummins Turbo Diesel I-6 that also comes in the 2500 and a massive 6.7L Cummins Turbo Diesel High Output I-6 that boasts 400 horsepower and an astonishing 1,000 lb-ft of torque. The high output engine can tow 15,921 kg and haul a payload of 3,483 kg.
Choosing a Ram Diesel Truck
The diesel trucks offered by Ram--1500, 2500, and 3500--not only offer the best hauling and towing capabilities in their classes, they also provide comfort and quality in all other aspects as well. They offer the best interior cabins in the class, as well as smooth rides, which is often hard to find in trucks that are designed to work. The diesel engines available in all models are very capable, and though they come at an additional price over the standard model rate, they are worth it. Buyers cannot go wrong with any of the Ram diesel pickup truck options; they simply must choose the one that best meets their needs.
Contact Us